I might as well warn you now that I really didn't plan on sticking to my normal $150 a month clothing / makeup / jewelry / nail polish budget. I knew going into the month that I'd be going out of town on a shopping trip and I always allow myself a portion of my tax refund as some extra "fun money."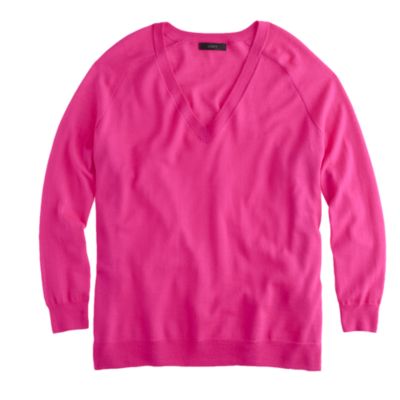 Image via J.Crew
This was my splurge of the month, but for good reason. I've wanted a bright pink sweater like this for over a year and every time I saw one online (usually from J.Crew), I'd wait and then miss out on it. I decided to take the plunge and snatch it up during their 25% off promo. This is A LOT for me to spend on a single item, but it's something that I knew would be worth it and was something I'd been wanting for a long time.
This is an Honorable Mention. I really wanted to love this tote, but when it (finally!) came in the mail I just wasn't feeling it. It's cute, but I knew I could put my $25 towards something I loved. I consider the fact that I returned this a shopping win.
J.Crew Factory Scalloped Shift Dress - $52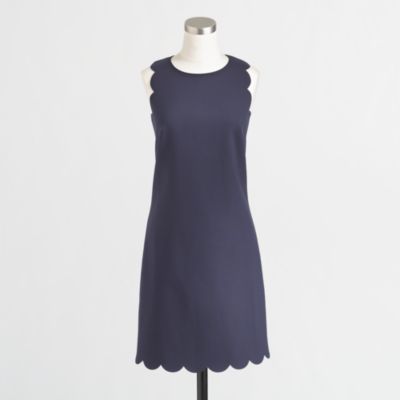 Image via J.Crew Factory
Wedding season is just around the corner and I've already got several on the calendar. I don't really own that many nice dresses (most of mine are more casual), so I decided that investing in a nice dress wouldn't hurt. I love this dress! I almost passed on it, but my mom liked it and so I decided to go back and give it a try. The scallop detail is adorable and I love that it's navy instead of black. I'm super excited to accessorize this one! I love that J.Crew lets you combine the teacher / student discount with their sales... I wish more stores were like that!
J.Crew Factory Printed Draped Tank - $25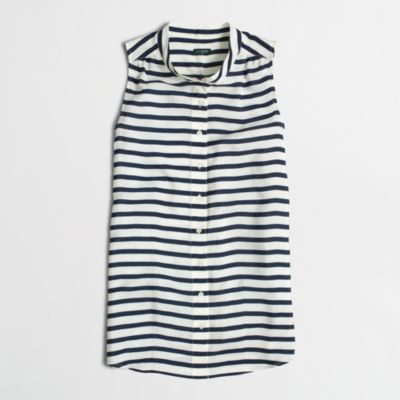 Image via J.Crew Factory
Can a person ever say no to navy and white stripes?!? I'm not normally a fan of this neckline, but I really liked the fit of this top and see a lot of versatility with it wearing it alone or with jackets or cardigans.
Gap Outlet Cardigan - $16
I think this one sucked me in because I'd just bought the above shirt and thought it would be a cute combination. It's a fun color and I will be nice going into spring.
Forever 21 Retro Polka Dot Scarf - $10
Let's take a moment to discuss how much my local Forever 21 sucks. I've probably been to 6 or 7 of those stores in different cities and the one in my city is by far the suckiest one. I think every other store I've been to has a ROOM of accessories... Mine has 2 little TABLES. Scarves? Good luck. Anyway, my mom spotted this scarf and I immediately informed her that even if she was getting it, I was getting one too. (This isn't our first mother / daughter matching scarf... We share a leopard one as well. And of course the one time that we wore to the same place was the first time she was meeting the guy I was dating. I reassured him that my mom and I don't always dress like twins. LOL)
Forever 21 Sugar Cluster Stud Set - $5
Among other things I have weaknesses for... Cute, cheap earrings.
Francesca's Collection Earrings - $12 and $5
You know those days when the only things that will make you not go insane are shopping and wine? I had one of those days and it just so happened to be when Francesca's was running a buy one get one half sale on jewelry. Let's just say I could have spend A LOT more.
Charlotte Russe Necklace - $13
Charlotte has really impressed me with their jewelry lately. I don't really shop there for clothing, but I pop in every now and then when I'm working at the mall to check out their accessories. They've got some really great knockoffs and statement pieces at reasonable prices. I've been pleasantly surprised with the quality as well!
Total = $201
In all honesty, at the beginning of the month I was thinking my total would be more around the $400 range. I had actually planned to get a new (nice) purse at the outlets, but didn't find one that I loved. I've managed to stick with my no makeup / no nail polish challenge and haven't even cheated with my gift cards! I've been really into accessories lately, though, and think that may end up being a ban later in the year.
March Shopping Plan:
I've been cleaning out my closet a bit and finding some items that need to be upgraded or replaced. My shoe collection is next on the cleaning agenda. I know that I need some new dressy shoes for the weddings I'll be attending I also need to upgrade some of my sandal collection. I'm really in a spring shopping mood, but I type this as I stare at the snow outside. Ugh!
How did you do with your budget this month?
Don't forget to check out Fran and the other Budgeting Bloggers over on her page!
http://franish.blogspot.com/2014/02/february-budget.html