Hey friends! It's that time again!


J.Crew Merino Boyfriend Sweater - $36
I have to admit that I've purchased 3 of these sweaters since the fall (as well as the "side panel" version, which really it almost exactly the same fit). I'm in love with the slouchy sweater and skinny jeans look right now. When this one went on an extra 40% off, I decided to grab it since it's fairly lightweight and a neon coral color that transitions into spring.
J.Crew Factory Printed Pencil Skirt - $19 (after gift card)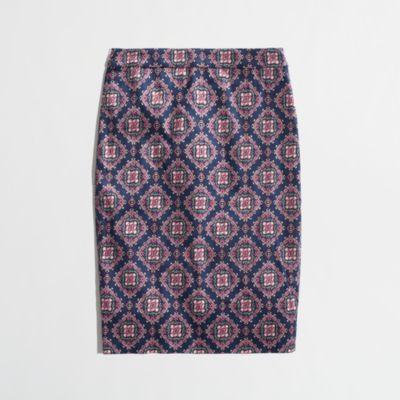 Image via J.Crew Factory
I've professed a few times how I don't do pencil skirts... Well, I saw this one in the store last month and thought, "I've lost some weight. I love this pattern. What the heck, I'll give it a try!" I really liked it, but didn't get it. I still found myself thinking about it each time I saw a sale e-mail pop up and so I decided to take the plunge and get my first pencil skirt! I may have started something bad for my budget...
Navy Crochet Toms (via Zulily) - $36
I had a friend introduce me to Zulily this month when she called to ask how I liked my other crochet Toms. (Yes, I have these in black and silver.) When she told me the price, I had her send me an invite. I'm not sure I'll do a ton of shopping on there, but I was super excited to snatch these up at a good price, since I've wanted to add the navy to my collection since last year. These are some of my favorite spring and summer shoes and are perfect for those days when your pedicure isn't quite in tip-top shape.
Image via Banana Republic
My gray v-neck cardigan was in desperate need of replacement. It was pretty shabby and had definitely lived a good life. Sure, I have other gray cardis, but for me this is a wardrobe staple.
Loft Dress - $42
Image via Loft
Loft has definitely become a favorite store since it opened in town last fall... It's a great store for cute "teacher clothes" that can still transition easily to the weekend. Even better, they always seem to be running awesome sales like 40% off! I love dresses like this!
Loft Stretch Lace Tee - $30
Image via Loft
I've been trying to make less impulse buys and let myself think about purchases before making them. I tried this one on the same day I bought the dress, but didn't make the purchase at first. I ended up going back the next day for it. (I don't know if living 5 minutes from the shopping center is a good thing or a bad thing...) My warm weather work wardrobe is kind of lacking, so I decided this was a good addition. Even with the 40% discount I think it was a little pricey, but I'm glad I've added it to my wardrobe as it goes well with skirts, dress pants, and jeans.
Loft Scalloped Neck Cotton Sweater - $36 & $24
If you can't tell, I really like brights and neons, so this sweater is a little out of my current element. I tried it on Loft trip #2 after eyeing it the day before. It's so soft, pretty, feminine and is different from most of my other sweaters.
And then a few days later I went back and bought the light gray one on clearance. I have a habit of buying things in multiple colors.
Express Essential Cami (x2) - $10
I've been on a major cami and layering kick again recently and have fallen back in love with these camis from Express. The quality is really good and they're some of the few that I've found that fit my body the right way. (I have issues with the built-in bras being too small and the body being too big.) I was lucky enough to score these with a $15 off coupon while they were already 40% off! They normally retail for $19.50 each, so to get 2 for $10 (navy and light gray) was awesome.
Target Belt - $5 (after gift card)
I tried on
this ADORABLE dress at American Eagle
, but was super disappointed when it was too short... If something is short on me, you know it's really short. Anyway, I loved the embroidery detail and colors and so I was excited to find this belt at Target. I think it's going to be good for spicing up some of my basic dresses during the spring and summer.
Michael Kors Purse - $180
I've been itching to get a new purse for some time now and struck out when I hit the outlets last month... Coach didn't strike me to have anything I had to have and Michael Kors seemed to still be fairly pricey for the outlet. I've been on a basic purse kick for a few years and wanted something that was classy, but still fun. When I saw this beauty at TJ Maxx I knew she had to be mine. In good taste, though, I waited a day to think it over and make sure that I wanted to make this investment. Let's just say the next morning the thought of going to get my new baby from the store got me out of bed. Sometimes being patient is well worth the wait! (PS ~ The original MK tag showed a retail price of $368!)

Yikes! Even if you take out the purse (which was from my tax refund "fun money") I was still well over my $150 monthly budget. This may be a lame cop out, but I had A LOT of extra income this month from a grant program I am in for school and the 40+ hours I worked at my part-time job over spring break. A girl is allowed to treat herself, right!?! This is also one of those months where I look back at what I bought and really love everything I picked up. I may not have scored amazing dirt-cheap deals, but I feel like everything I bought was well worth the money. Well, I certainly did, but rest assured I won't do this very often and a good chunk of that extra money went to other things (like a new desk / workspace) and into savings.

April Shopping Plan:
Since my spending was *cough cough* a bit high for March I plan on trying to stick closer to my budget for April. I'm allowed to start buying makeup and nail polish again in April and also plan on updating some of my shoe collection. (I did a MAJOR closet clean out over spring break and really weeded through my shoe collection!)

Head over to Fran's blog to see how all of the other budgeting bloggers did this month and join in on the party!