Image via Loft
I really debated on whether or not to get this during the Loft Friends & Family sale... I loved it, but wasn't sure how much use I would get out of a sweater at this point in the spring. Then, I was reminded that I live in Kansas where it can literally go from blizzard to shorts weather in the same week. (Seriously, we had one day this month where part of the state was under a tornado watch and the other was having blizzards.) Anyway, I've already gotten some good wear out of it and I think the navy and white stripes are classy for any season.
Image via Loft
I wasn't really looking for jeans when I hit the Loft sale, but I decided to give these a try as I've really come to like the fit of many of their pants. The super dark wash makes them feel more like dress pants than jeans and therefore they've been added to my work wardrobe rotation for the remainder of the school year.
J.Crew Factory Airspun Baseball Sweater - $27 (purchased with gift card)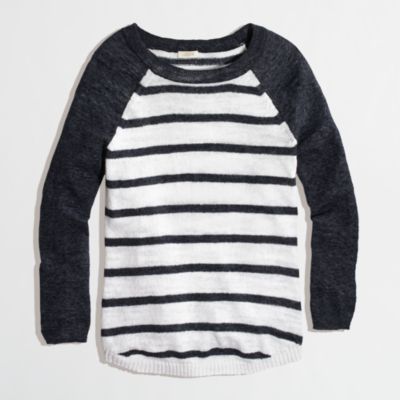 Image via J.Crew Factory
I've been really liking baseball tees lately and have found some cute styling ideas on Pinterest. I love the tomboyish look paired with girly details. I felt a little guilty getting this right after buying the other striped sweater from Loft, but I liked the stripes a bit better than the solid versions and this one was cheaper.
J.Crew Factory Bar Stripe Tee - $24 (purchased with gift card)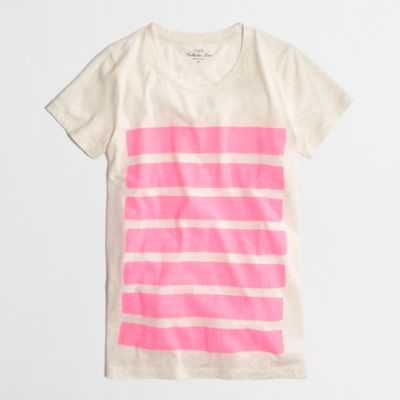 Image via J.Crew Factory
I've had my eye on this tee since the retail version came out last year, but kept missing out on it. I was happy to finally get it. I love that it's casual, but a little bit more than just a basic tee.
Old Navy Eyelet Shift Dress - $0.32
Image via Old Navy
This is what happens when you stack a sale, plus Stuff & Save, plus a reward coupon on top of one another... You get a super cute dress for $0.32! This one is very flattering and was one of my Easter dresses!
Charlotte Russe Necklace - $5
CR has had some really nice necklaces recently and ran a $5 statement necklace sale right before Easter. I may not have necessarily needed this one, but I had a hard time passing up a great necklace at a great price.
Merona Wedge Sandals - $18
Image via Target
Target has been running some great sales with coupons and Cartwheel and the best part is that they all stack on top of one another. I bought these to go with my Easter dress (that I bought at Loft last month) and some of my other summer dresses.
Target Earrings - $0 (after coupon)
When I bought the sandals I was a couple dollars short of being able to use a $5 off apparel and accessory coupon. Combined with Cartwheel, I got these for free and still saved a few extra bucks off of the sandals.


How cute are these?!? I love flats and even more loved the idea of adding navy bow flats to my shoe collection. I love that they're comfy and good quality at a decent price! I may be buying more colors!
Target was running a BOGO 50% sale on all shoes, so when I bought the flats I knew it was a good time to snatch up some new sandals. I love that these are black AND brown! They're probably going to be in heavy rotation this summer!
Total = $141.32
This doesn't include my Sephora makeup purchases after my 100 day makeup and nail polish shopping ban, but that is coming in another post. (I also spent a gift card on some of those purchases.) I did fairly well staying on budget with clothes and accessories this month. I don't feel like I buy shoes very often, so to get 3 pairs is kind of crazy for me! I threw out and Goodwill'ed a lot of shoes last month, so I didn't feel too guilty about upgrading my collection.
May Budget Plan:
May brings the end of the school year, so I don't really have much need to think about work clothes for a couple months. I'm hoping to find some cute warm weather items, but really don't have any specific items on my "must have" list right now. I have a few weddings coming up, so I may treat myself to some new shoes or accessories for those events.
How did you do with your budget this month?
Don't forget to link up at Franish to check out the other Budgeting Bloggers!