June has been an expensive month for me. I had a lot of additional expenses that are out of the norm... Garage sale, moving, throwing a bridal shower, and attending showers and bachelorette parties. I'd made myself a budget to go off of each month to help build up my savings a bit faster, but that pretty much went out the window this month! I think we all have months like that, though, and that's why you've gotta have a little cushion with your finances, right? ; )
Anyway, I've decided July is going to be a month to be pretty strict with my spending. I'm hoping to go out of town at the end July and if I want to have some "fun money" to spend on that trip I need to be good between now and then!
I know it's kind of a long shot, but I'm banning myself from pretty much all non-essentials for the month of July! No clothes, no makeup, no jewelry... Until the end of the month or until I make a trip out of town! It's going to be a challenge for me since I loooooove shopping and it's something I do when I get bored. I'm hoping that the fact that I'm going to be super busy for a big chunk of July will help me out! I also know that I need to reserve some of my budget for back to school items and some of the items I want for the start of the school year.
On my final note, here are a few of my last purchases before the big ban... Nothing too crazy, though!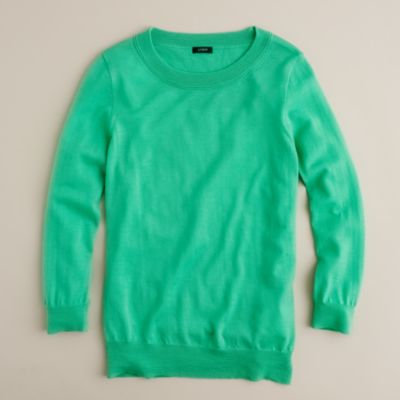 jcrew.com
J. Crew Tippi Sweater in Succulent Green
- Yes, another Tippi! I love these sweaters and I've been watching the sales for months waiting for the right time. I've wanted another Tippi in a bright color and thought that this shade of green was wonderful! I'm sure this won't be my last Tippi purchase, but it'll be a while before I get another one. These sweaters are cute, versatile, and comfy... A total teacher essential! I have two already, plus one of the Factory versions, Thandie.
Buxom Beach Bound Lips & Lashes
- I spotted this little sampler at
Sephora
when I was there with a friend and resisted the urge to get it. Then it haunted me for the next couple weeks! For some reason I really wanted to try these two products from Buxom. I've become a fan of little trial sampler packs like this... They're usually found around the checkout at Sephora or Ulta. I love trying new products, especially higher-end ones, so this is a totally appealing concept for me. I'd rather spend $10 on a few small sizes and know I like something rather than drop $25 or $30, hate it, and feel total regret.
drugstore.com
Revlon Colorstay Nail Enamel Top Coat
- I told myself no nail polish until September, but I ended up snagging China Glaze's "Flip Flop Fantasy" with a coupon. I found a base and top coat in a while back when I reorganized my nail polish and used it a couple times... Let me just say it was complete junk. My nails chipped the next day! (It did this with 2 different brands of nail color as well!) I was super ticked because I loved the colors, so I decided to break down and purchase a new top coat that I'd seen recommended a few times. So far so good! I do want to get the base coat at some point, but for me the top coat is the higher priority.
The Balm "Hot Mama" Blush
- I've been on a major makeup kick the past few months... I blame the fact that I discovered there are so many beauty-related
You Tube
videos! I've been eyeing
Nars Orgasm
blush for a about a year, but I told myself I wouldn't splurge on that one until I made it through some of my other blushes first. I'd seen
The Balm
brand of cosmetics on the
Birchbox
site and then saw a video the other day saying this blush is similar to Nars Orgasm. I had a couple
Amazon
gift cards, so I decided to grab it from there and give it a try! I don't have it yet, but I've seen tons of good reviews, so I'm pretty sure it'll be a winner! (The price difference between the two is about $9, but on Amazon and with my gift cards I spent less than $4 on Hot Mama.)
Today will be a total day of temptation... A friend invited me to join her this afternoon and run to Ulta, Victoria's Secret, and TJ Maxx! Temptation will be looming at every corner!
I'll probably be making some school purchases at some point soon, so I'll be sure to show those as they come along!
Happy Tuesday!