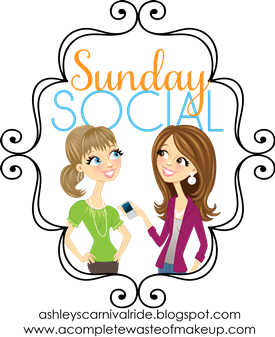 This week we're celebrating the end of summer! I'm just going to jump right into the questions...
What was your favorite trip / vacation / activity this summer?
This was the first summer in several years that I didn't go out of town. The previous 3 summers or so I've been to Colorado and a short trip to visit friends in KC. I was busy with other stuff and couldn't schedule a good time to visit friends out of town. BUT, the best activity this summer was my friend's wedding here in town! Several of my really good friends came here (part of why I didn't go to them) and I must say that was probably the best week of my summer. I've really missed having some of my best friends here in town, so it was really great to have them here!
Favorite outfit look of the summer / clothing item?
I totally loved my neon and brights this summer. I accumulated quite the collection of bright tees and tanks. It was super refreshing to brighten up my wardrobe with some fun colors. My favorite jeans for the summer are my
AE boyfit cropped jeans
... I've got 4 pairs between this year and last year in rotation since I'm not much of a shorts person.
What is one thing you wish you had gotten to do this summer?
Not to repeat myself, but I really do wish I'd been able to go out of town at some point. Between moving, helping with wedding stuff, friends coming here, and my summer class I really didn't have a lot of the summer available to travel. Oh well, more reason to try to schedule a trip for the next few months!
Favorite song of the summer?
I don't think I really have a song I've just been loving this summer. I do kinda like "Good Time" from Carly Rae Jepsen and Owl City. I've been really into listening to the 80's and oldies stations on
IHeartRadio.com
, so I've not be super up on current pop music.
Favorite movie / TV show of the summer?
I'm not much of a movie-goer, so the only two movies I saw were very random... "Magic Mike" and "Ted." (I told you they were kinda random!) I'm much more of a TV person, so here are my recent faves:
"Awkward"
"Design Star" / "Design Star All Stars"
"Degrassi"
"Dance Moms"
"Teen Mom"
I've also totally been into DVRing reruns of "ALF" and "The Facts of Life" in the middle of the night. LOL
Most of these are wrapping up their summer seasons, so I'm anxiously awaiting my fall shows. I don't watch a lot of network TV, but I'm super excited for "Parenthood," "Community," and "Up All Night" to return!
***
Happy Sunday!