A Complete Waste of Makeup
hosts Sunday Social each week. I don't always get around to doing a post (and some weeks I'm not all that into the questions), but it is a really fun way to link up and discover new blogs.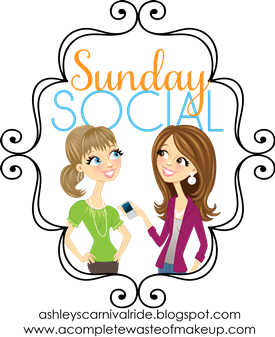 This week's questions were pretty general and were "catch up" questions.
What is currently on your wish list?
I've got a pretty good list going of pricier items that I'd like to get in the next few months. The one I'm hoping to get soon is a Clarisonic Mia 2 (in pink, of course).
sephora.com
Coach sent me a coupon this week for $100 off $300 or more. Now, technically I am still banned from making anymore purse purchases until next year, but coupons like this just don't come along very often. I look to be getting a small raise and probably do some part time retail work during the holiday season, so I'm thinking that may be the only way I can justify a purse. I've been eyeing this one from their Poppy collection for a while.
coach.com
My final wish list item is an iPad Mini! I actually went into Best Buy tonight to check them out in person. I love it! The size is exactly what I want and I love my iPod Touch, so I know the iPad would be a wonderful addition for me. Other than blogging, I don't really do much online at home that requires a full laptop. I'm asking for gift cards for Christmas and hope to maybe get one in the next few months!
Share a new iPhone, Droid, or iPad app you recently discovered that we all need.
I'm really not into discovering cool apps. I have an Android phone and an iPod Touch and I carry both around and use apps on both. I wouldn't categorize either app as "cool" or even new, but I've been using the apps for Target and Walgreens a lot lately for their weekly ads and rewards program. I've also been using my ESPN Fantasy Football app a lot on weekends to check up on my (not-so-stellar) team!
Share your social media links for us to follow you on.
I don't tweet and I don't have a Facebook page for my blog. I do use Instagram, but I'm contemplating on whether or not I want to make that one private and if I want that one connected to my blog.
What is a new fall TV show you have added to your DVR?
"Go On" with Matthew Perry is probably the only new show that I've started watching this year. I really don't watch much network TV other than a few shows on NBC. I'm a huge fan of "Friends" and Perry is really great in this show. I'm really hoping it lasts longer than just this first season!
What is a TV show / movie / song that you can listen to or watch over and over and never get tired of?
TV Show(s): Friends, Full House, Arrested Development
Movie: Back to the Future
Song: Pretty much anything from Huey Lewis & the News or Duran Duran
Obviously I like to kick it old school.
***
Well, that's it for this week's questions! I hope you had fun reading and will come back soon to read some of my other posts I'll have coming up! Happy Sunday and I hope you feel well-rested from your extra hour of sleep!