***Okay, I'm a little late to the party... As if life was not already busy enough with this time of year, I was in a car accident last week and now have to take on the job of buying a new car. Thankfully, the accident was not my fault, there were no injuries, and hopefully the insurance stuff will all work out to take care of things, but my 2 year old car is totaled. *sigh*

Alright, now onto the fun stuff!

Xhilaration Sandals - $17 (Target bogo full price)
Merona Flats - $5 (Target bogo 1/2 clearance price)
Lower East Side Flats (Payless) - $17
Image via Target
Image via Target
Image via Payless
I somehow ended up on a shoe shopping spree at the end of March. I have to admit, I bought these right before posting my last Budgeting Bloggers post, but I was debating on keeping / exchanging, so I decided I'd just put it into my April budget since I was exactly on budget for March. Shoes have been a focus on mine, so spending $39 on 3 pairs was really good for me.
One of my goals for the spring was to upgrade my t-shirt collection. I sold a lot of the ones that were in good condition last month and have a stack of others for a garage sale or Goodwill. I think basic tees like this are a total wardrobe staple and I love having a variety of colors to pair with just about everything in my closet. I thought I was getting a mint-y tee from J.Crew a couple months ago, but when it finally arrived it was much darker than expected. I kept it, but still had my eye out for a mint colored tee.
Gap Block Print Cardigan - $30
One of my goals for the month was to stay away from Gap... We'll consider only 2 items from there a decent success on that goal. I popped in to get a baby gift and walked out with a baby gift AND this cardigan that I thought I'd just pinned on Pinterest. Even better, it was 40% off! It's super cute, but totally out of my element being that it's blue and a pattern. It makes me want to buy a cute white dress to wear with it!
Banana Republic Draped V-Neck Sweater - $38
I have a weakness for gray sweaters, particularly those from Banana Republic especially when 40% off. This is a great spring sweater... Slouchy, lightweight, and a versatile light gray. For reference, I'm between sizes at BR and I went with the larger of the 2 for a little extra length and slouch. (Side note: In store this is called the "drapey" sweater, not "draped" like it is online.)
J.Crew Factory Button-Back Sundress - $33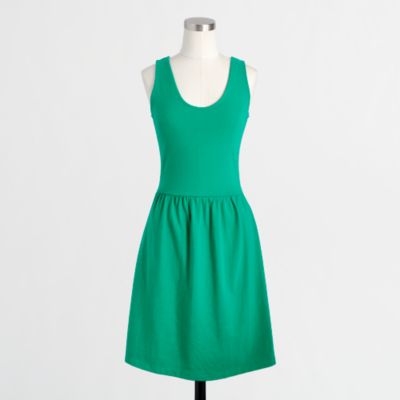 Image via J.Crew Factory
This dress tempted me last year when it was at J.Crew, so when the Factory came out with their own version this year I was even more tempted. The color of green is much more of a bright true green in person, but it's very comfy and fun. I wish I'd been able to try it in store because I really can't quite figure out J.Crew's sizing for myself. This dress is a tad smaller than I would prefer, but not so much so that I feel like it needs to be returned. (Plus, I'm getting back on track with diet and exercise after a slump and I think going a size larger might have been too much.)
Tarte Femme Naturale Eye Palette - $22
Image via Sephora
My makeup shopping ban was over the day before Sephora's spring Beauty Insider sale started... How convenient?!? I behaved pretty well in the store, but found this baby on sale online. I debated for a few days and finally decided that at $22 this was a really good value. Even though it's another neutral palette, it's very different from my Naked 2 and I've been wearing it a lot. It's sold out on Sephora's site now, but you can get it at full price from
Ulta
.
Maybelline Color Whispers - $6 each
Revlon Balm Stain - $8
(purchased with gift card)
Lip products were one thing that I was really having to fight off buying during my makeup ban. I feel like as soon as I banned myself from getting those things, TONS of new products came out! I still had some gift card money for Wal-Mart and since I hate that place so much, I decided my reward for going to that place would be some new lip candy!
Total = $169
I was over my goal of $150, but under my cap of $200. I think the BR sweater was my only real impulse buy, but it's a great basic that's already gotten a lot of wear and will be perfect in the fall. I fought off temptation to get some new accessories at Target (clearance purses!) and overall, I'm happy with my goodies!
May Spending Plan:
I've made 1 purchase for May so far, but until this car thing thing is taken care of I'm trying not to spend much unnecessary money.

Other than that, I really don't have much planned for May purchases... I need new workout shoes and will probably make that a priority for this month.

At some point in the near future I'll share my summer wish list and budget plan. I think for the summer I am going to set one budget for June, July, and August and see how far that can stretch me. I'm hoping to make at least 1 trip out of town and do some shopping, but other than that my summer will be spent relaxing, doing some part-time work, and taking some classes!


Don't forget to check out and link up with the rest of the Budgeting Bloggers over at Franish!