It's that time again! In looking at my purchases this month, I really did better than expected... It feels like I spent a TON of money this month, but I have to consider the fact that I had to buy a new car this month. (I had a lady hit me while I was stopped in traffic totaling my 2 year old car. Thankfully I had insurance money to cover those costs!) When I look back at this month's buys I feel like I did pretty well getting some good deals and summer essentials.
Images via Gap
Gap Tee - $9
Gap Tee - $9
Gap Striped Tee - $12
I've managed to do almost a total t-shirt collection upgrade this spring. Gap's "Essential" tee collection is pretty awesome. The fit is great for me, they have a ton of great colors, and they're the perfect weight for wearing alone or layering. I picked up 2 of these on clearance at the beginning of the month and then the other 3 were new arrivals that I scored with a couple coupons later on in the month. (
Read here about how tees are part of my summer "uniform."
)
Versona Accessories Necklace - $22
Versona Accessories Earrings - $6
Love. This. Necklace.
It's a complete knockoff of the J.Crew Flower Lattice Necklace that runs $228. Yup. Naturally, I snatched this one up immediately and have been loving it ever since.
Versona Accessories Wedge Sandals - $16
We had a new accessory store open this month and is of course way too close to where I live. Everything is super affordable, which is totally my kinda thing when it comes to accessories. I grabbed these wedges on clearance since they comfortably fit my wide-ish feet and have a lower height than my other wedges.
Target Linen Skirt - $22
Image via Target
I first found this skirt in bright pink and loved it, but just couldn't justify a(nother) pink skirt. I was thrilled to find it in navy, though, and grabbed it as it will be a great basic skirt to have in my wardrobe.
J.Crew Factory Textured Charley Sweater - $38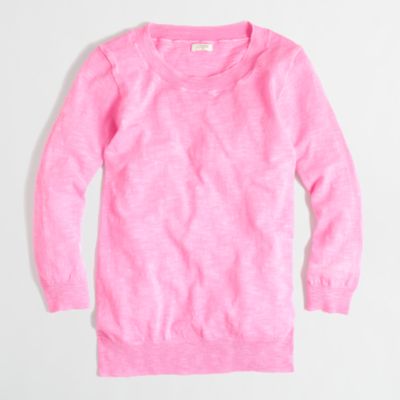 Image via J.Crew Factory
I have a serious weakness for these sweaters and was interested in getting the "textured" version. I really love this sweater and the fun neon pink color!
Old Navy T-Shirt Dress - $15
Image via Old Navy
I love simple dresses for the spring and summer and was pleasantly surprised by this find at Old Navy. It's somewhat comparable to my black t-shirt dress from BR, but at a fraction of the cost!
Sakroots Tote - $70
Sakroots ID Holder - $10
I'd been contemplating a new summer bag for a while and when I saw a friend with this tote in another pattern I had to check them out. I'll have a whole post on what's in my summer bag later this week, but let me just say, this bag was a great buy! I got mine at Dillard's, but you can find these online at quite a few other stores as well.
Total = $245
While I did technically go
a little
a lot over budget, I had quite a bit of extra income on top of teaching and my part-time job. I allowed myself to take a portion of that to put towards a new bag and a couple accessories for the home. If you take out the bag, I'm pretty much on track for my monthly budget.
I was proud of myself for not making any makeup purchases this month. I think my 100 day makeup shopping ban really helped me in this area!
June Budget Plan
Since I don't yet have any summer trips planned out, I am going to
attempt
to reserve most of my shopping budget for when I go out of town. I love hitting up stores that we don't have locally and hope to do so at least once before I go back to school in August.
How did you do with your budget this year? Don't forget to link up with us over at Franish!