Greetings! I somehow managed to skip posting for last month's Budgeting Bloggers, so I wanted to be sure to to join in this month.
I think one of the hardest things about not working full-time during the summer is the amount of free time I have... I tend to be one of those people who shops when they're bored, whether it be online or in store and that can be a HUGE budget buster if I'm not careful. I try to occupy my time with things other than shopping, but of course that doesn't always happen.
Image via Loft
I had 2 of Loft's $25 off $50 savings cards at the beginning of the month and decided to give myself a portion of my budget for a little fun there. I tried these cropped jeans on a whim and LOVED them! I've really never had much luck with patterned pants, so I was pleasantly surprised with how flattering they are. The colors are great for summer, but can transition into fall and I've received compliments every time I've worn them!
Image via Loft
I feel like I have a love / hate relationship with linen. I've bought some great linen tops and I've bought some really crappy ones as well. I really like this fit and it goes great with my new jeans!
Loft Sunwashed Tees - $31 for 5
Image via Loft
Does anyone else feel like they have to upgrade their tee collection almost every year!?! I feel like got rid of and bought a lot of new tees last year, but I feel like I'm having to do the same this year. I think part of this can be blamed on changes in my weight and how I like things to fit. Loft had a couple good promos on tees this month, so I was able to snag them all for about $6 each. (This is less than the sale Target has been running on their Merona tees!) Tees are something I wear year-round, so when I find a fit that I like I tend to buy them in bulk!
Loft Floral Henley Romper - $41
Image via Loft
This is my splurge of the month. It's
very
much out of my element, but I really like it. Unfortunately I don't know how much wear it will end up getting, but I'm trying to style it different ways. I would have never thought I romper would fit or look good on me, but since Loft's clothing is made for
not teenagers
, it's a more comfortable length.
How I styled the Loft romper for a day of errand running and shopping.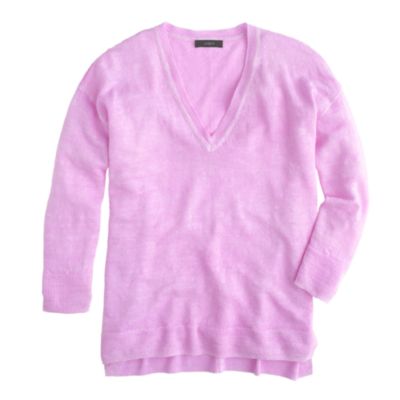 I will refrain from ranting too much about how sketchy it was that this sweater was suddenly sold out the morning of their one day 40% off promo and then magically reappeared in full supply the next day when it dropped down to 30%. Anyway, I guess that means I really wanted this sweater because I was still willing to pay the extra 10% ($5-ish) for it. As a K-State grad I'm naturally drawn to purple things and neon purple (or "neon amethyst" as this one is called) is a rare find and not a color I really own.
Versona Accessories Earrings - $6 and $4
I went into Versona looking for a gift and walked out with these for myself. I've been pretty well behaved with jewelry for a few months, so I didn't feel too guilty. The spades remind me of Kate Spade (for about 1/10 the price) and the leopard is a little something fun to spice up some of my basic black outfits.
Gap Polka Dot Dress - $21
The only words I can think to describe this dress: totes adorbs.
How cute is this dress?!? I really wasn't in the market for a dress, but this one caught my eye and when I saw that it was on major sale I decided to give it a try. It's definitely going to be traveling with me in September when I go on vacation for a friend's wedding!
Total = $188
I stayed within my $200
max
budget, but not by very much. As you can see, I've been hitting Loft pretty hard lately. Some of my other old favorite stores just haven't been doing it much for me lately. I definitely branched out of my element with the floral jeans and romper, but I'm quite happy with both of those purchases.
July Budget Plan:
I'm heading out of town for a few days and plan on doing some shopping at stores that I don't have locally. (Watch out J.Crew and H&M, I'm coming your way!) I pretty much plan on blowing through my July budget on that trip, so I'm going to test my self-discipline the rest of the month. It's probably good that I'll be taking my two week summer class and that will keep me busy and out of the stores. As much as I don't want to think about it, school will be starting up in about a month and a half, so I need to start focusing my shopping mindset on things that I can wear to work and that can transition into fall.
Don't forget to stop over to
Fran's blog
and check out the other budgeting bloggers!