It's that time again!
Here's a little peek into what's going on with me right now!
July is going to be a super busy month for me... This week is pretty much my only week of down time. Next week I begin a two week course on Common Core math that will be all day, Monday through Friday! I'm pretty sure that will wear me out! My old roommate's wedding is also coming up in the middle of that, so I'll be busy with helping with the wedding and hanging out with friends that are coming into town! I really wish the wedding festivities and my class didn't overlap, but that's just the way things happened to workout! After that I'll have a little down time (and hopefully fit in a little trip out of town) before school starts up again! Summer seems to be flying by! I can't believe it's already July!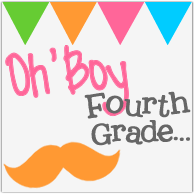 Now it's your turn to link up over at
Oh' Boy 4th Grade
and join in on the party! Click the picture on the left and you'll be linked up to Farley and the party! Happy Monday!