Gap Essential Star Tee - $11
How stinkin' cute is this tee!?! My friend and I popped into Gap after lunch one day and both loved these tees. I found myself thinking about it over the next few days. For me, that's a sign that something is probably worth buying. Of course this tee was perfect for the 4th, but it's just a fun tee for anytime and will of course come in handy for some of those patriotic dress up days at school.
J.Crew Factory Textured Charley Sweater - $27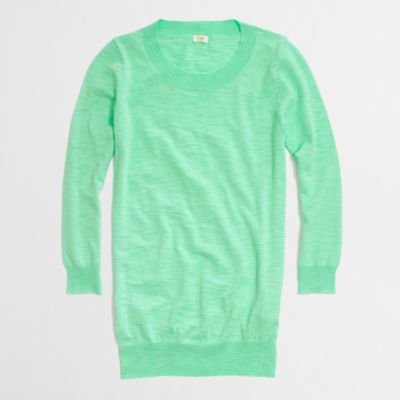 Image via J.Crew Factory
I really like my other 2 sweaters like this and so I took advantage of the awesome 50% off sale to pick up this minty one. It's sold out now, so I'm glad I grabbed it when I did. It's more neon in person, but of course, that's totally fine with this girl!
J.Crew Vintage Cotton Tank - $12
I haven't ordered from the regular J.Crew site in a while, but when they marked down their "Final Sale" section an extra 40% off I thought it was worth a look. I bought one of these tanks last year and really liked the fit, especially for layering, so I decided to get a hot pink one!
J.Crew Linen V-Neck Pocket Tee - $16
I'd seen a few bloggers post about linen tees and then saw
Fran
post about her adorable striped tee... That was it. I had to try one for myself. I contemplated getting a fun color, but decided to stick with this better than basic gray tee for a little added versatility. How awesome is it that I got both shirts, plus tax and shipping for less than the original price of this tee!?!
Target Infinity Scarf - $3
I'm always excited when Target puts out new items in their bargain bins. It used to be everything was $1, but now they add in some $3 as well. I spotted this lone infinity scarf chillin' on the bottom rack and decided it needed to be mine! It's super cute and a super bargain!
Express Necklace - $20
I used to shop at Express all the time, but I rarely go in there these days. I spotted
this necklace
a while back and it stayed on my mind for several weeks. At that point I decided to find a coupon and make it mine! The silver and mint is so glam, but still works with a lot of outfits. (PS-- Never shop at Express without a coupon... They always have ones posted on FB or their website!)
Coach Poppy "Perri" Hippie Bag - $159 (before gift card)
Image via Coach / Dillards
I'd seen this bag in passing at Dillards and Von Maur and really liked it, but wasn't sure if I could justify purchasing a $228 bag right now. I had time to kill before working one afternoon and happened to see that the ones at Dillards had been marked down to $159. I've got a few black Coach bags, but I love the size of my other Hippie bag from Coach and I've also been on the hunt for a good cross-body for quite a while. The next day I decided to go for it... I had a $100 Visa gift card from when I switched cable companies and I bargained with my aunt to buy one of my older Coach purses for $40. So, out of my pocket this baby only cost me about 20 bucks!
Vans "Authentic Skate Shoe" - $45
Image via Journeys
A few months ago I stumbled upon some pins of these shoes on Pinterest and instantly fell in love. I think I checked 1 or 2 stores and didn't have any success, so I kinda gave up the hunt. After going through my pins again, I decided to give it another go and found them immediately at Journeys! I haven't been this excited about shoes in a long time!
Total = $293
Minus $140 in gift cards and sold items.
FINAL TOTAL = $153
I have to say that I'm quite proud of everything I purchased this month for the amount of money I actually spent... 4 shirts, a scarf, a necklace, a pair of shoes, and a leather Coach purse all for $153?!? I think July was a definite win for the budget! I made an effort to stay away from Gap this month and even popped in during their extra 40% off sale and walked out empty handed. (My star tee was actually purchased in June, but after my last budget post.)
August Budget Plan
Back to school sales are in full force right now, so this time of year it gets to be difficult to resist some of the good deals out there. I need to make an effort to find some good work pants for the school year and I will probably treat myself to a new first day of school and / or open house outfit. I think Gap should be having a Friends & Family sale sometime soon (last year it was the week before school started), so I am excited to check that out since I've tried to stay out of there recently.
How did you do with your budget this month? Check out Fran and the other Budgeting Bloggers to see how they did this month!