Today's "5 Days, 5 Ways" theme is dresses! I love dresses for spring and summer and I have a couple in particular that get a lot of good wear.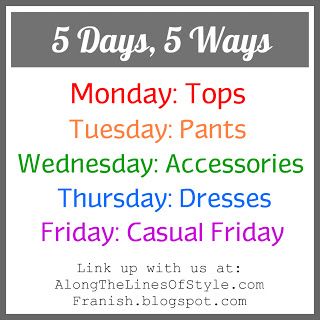 I have 2 black tank dresses that are pretty much my ultimate go-do dresses. One is from Gap (from 4 or 5 years ago) and has a slightly full bottom half. The other is from the J.Crew Factory store (2 years ago) and has a slightly more straight bottom and ruffles around the arms.
What I love about these dresses is how versatile they are. I can seriously wear the same dress over and over and style it differently each time.
School
Weddings
Bridal Shower
Baby Shower
Funeral
Church
Concert
Dinner
Bachelorette Party
Yup, I wear these dresses for pretty much everything you can imagine.
Summer lunch with friends!
All dressed up for a friend's wedding!
And this is why I don't blog outfits of the day...
These pics were taken by my personal photographer (AKA my 11 year old brother).
This took about 6 attempts.
Dress: Gap (old)
Shoes: Madden Girl (old from TJ Maxx)
Sunglasses: Fossil (fairly recent from Gordman's)
This one isn't too bad!
Jacket: Gap (old, but they have cute ones
here
)
Okay, it's not 5 ways, but my brother and I were too hungry to take anymore photos!
I most commonly wear these dresses with my denim jacket or a cardigan. Since I have a lot of ridiculous amount of cardigans I have a lot of options with colors.
(PS ~ I'll get back to more school / teaching related posts next week!)