My challenge for February was not not purchase any new shirts... I was hoping to keep my budget on the low end. Ha ha ha! That lasted for about 2 weeks before it became a BIG FAT EPIC FAIL.

I blame this on several things...

Spring items have been popping into stores and there were some pretty good deals around (especially around President's Day). Second, I was originally planning on a spring break vacation, but that got moved up to this month, so I decided to go on and buy some things before going on that trip. (I traveled with 2 guy friends, so I knew vacation shopping was most likely not going to be in the cards this trip.)
J.Crew Factory Colorblock Stripe Boatneck Tee - $30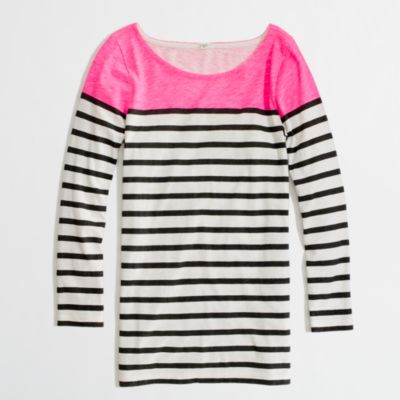 Image via J.Crew Factory
I bought the retail store version of this tee in navy and orange last month, but when I saw the pink version came back the the J.Crew Factory store this year, I knew I needed it. Pink and gray / black are just my colors and I felt un-buyers remorse last year after passing this one up. To my credit, I snatched this one in the last couple days of January.
J.Crew Vintage Cotton Tee - $15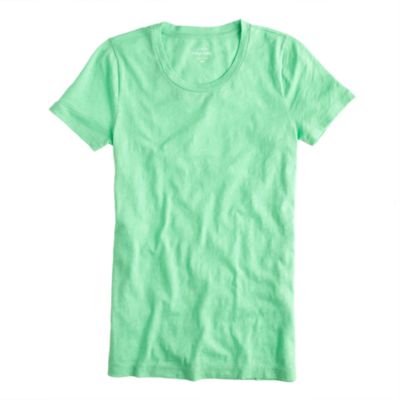 Image via J.Crew
I posted my
Winter to Spring Wish List
last month and one of the things I mentioned was that I wanted to upgrade my tee collection. I have a lot of tees, but many of them are in need of retirement. These Vintage Cotton tees from J.Crew are winners for me, so when they ran 40% off and free shipping I snatched this minty one up (since Gap's minty tees disappeared super fast)!
J.Crew Tippi Sweater - $29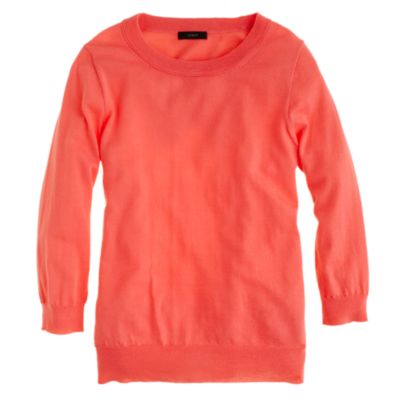 Image via J.Crew
My Tippi sweater addiction may be getting out of hand. I find them really versatile, though, and so this was another thing I had to grab during J.Crew's sale. Unfortunately due to the recent Kansas "Snowpocalypse" my J.Crew package has been trapped on a UPS truck here in town for a week! Ugh! Hopefully I'll get my stuff soon!
Banana Republic Denim Shirt - $31
Image via Banana Republic
I bought this one two days before the February shirt ban and am so happy I snatched it up! I used a 40% off coupon and a $10 reward which made this new arrival less than half price! I have trouble finding button-downs that fit me properly, but this one was just right and a worthy addition to my wardrobe.
Gap Long Sleeve V-Neck Cardigan - $26
Image via Gap
This was my first cheat on the no new tops challenge. I pretty much love this cardigan and at 40% off, I didn't want to risk it going away. The weight and color are perfect for spring.
Gap Essential Short Sleeve Crew Tees - 3 for $39
More upgrades to my tee collection! Gap's tees are really good this year and I was happy to find some stripes!
Abercrombie Alyssa Sweatshirt - $23
Mossimo Supply Co. Lady Satchel - $7 (purchased with birthday money)
Image via Target
I've been looking for a cross body bag for a while (as in a few years), but haven't found one that I love. I went to Target thinking I would get
this polka dot cutie
, but when I found this black satchel for just over $7, I knew I had to snatch it up.
Mossimo Supply Co. Knit Infinity Scarf - $15 (purchased with birthday money)
I have to confess I went to Target 3 days in a row one weekend earlier in the month... I was tempted by this scarf each time and finally on the third trip I decided to just get it (even though it wasn't on sale) and use my birthday money on it. Neon purple!?! Money well spent!
TOMS Silver Crochet Classic - $58
I've had the black crochet TOMS for about 2 years and I love them, so when some new colors came out for spring, I decided that would be worthy shoe purchase. My mom persuaded me to go with these gray ones (the color is actually called "silver") and I'm so happy with them. It's a bit of a shoe splurge for me, but very much worth it because I know I'll get a lot of good wear and that they are very comfy.
Zigi Soho "Smokey" Studded Loafers - $13
Image via Famous Footwear
I've loved the studded flats I've been seeing around, but didn't like the price of most of them. I found these at Famous Footwear and they were marked $14.99, but they had been marked incorrectly. The sales associate was kind enough to honor that price and I had an e-mail coupon dropping the final price down to $13. I was pleasantly surprised by how well these fit me and how comfortable they are for all day wear. Now I can give my other black flats some rest time!
= $264 - $54 Ebates cash back
Total = $210
I do feel a bit guilty about spending chunk and cheating on my no shirts and sweaters thing, but I'm once again very happy with my purchases. $71 went towards shoes, which is really out of the norm for me. I typically allot a fraction of my tax refund for extra "fun money" which also takes away a little guilt. (Especially since my vacation also came in under budget!)
On a positive note: The no makeup or nail polish thing has been hard for me, but I made it another full month! It's so tempting, especially since so many new items have come out for spring, but I've survived just fine.
March Budget Plan

I feel like the last few months have been a bit heavy on the spending, so I hope to cut back on things in the next month or two. Here are my goals for March:
Work on cleaning out and upgrading my spring and summer shoes. I have a lot of sandals, but I have a lot that are on their dying days. I need to clean out the ones that are falling apart so that I can start looking for replacements.
Continue my ban on makeup shopping. I decided this month to go for 100 days... Or until Sephora runs their spring VIB sale. I've used a pretty good assortment of items and have pinpointed some of the new items I really want to try out when the ban is over.
Focus on items I can wear to work. I've purchased 2 hoodies / sweatshirts in the past 2 months... This doesn't sound that bad and I do really like both of them a lot, but they're not really things I can dress up for work.