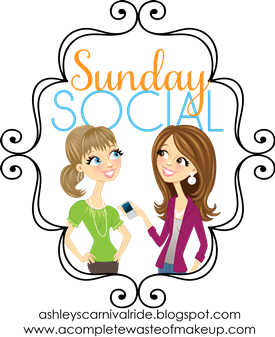 Click here to visit this week's link up!
It's time to link up over at
A Complete Waste of Makeup
for this week's Sunday Social. I've skipped the past could weeks (Valentine's theme = gag and then I was on vacation last weekend), so it's good to be back and linking up with everyone!
This week's theme surrounds around the number
5 songs you'll listen to the rest of your life:




"You Get What You Give" - New Radicals
"The Power of Love" - Huey Lewis & the News
"Ordinary World" - Duran Duran
"Let's Go" - Wang Chung
"You're My Best Friend" - Queen
5 things on your bucket list:

Get married
Have a few kids
Own a home
Travel to Europe
Complete some sort of further education
5 celebs you'd like to hang out with for the day:

Jason Bateman
Ryan Gosling
Jennifer Garner
Drew Barrymore
Betty White
5 things you always carry in your purse:

Driver's license
Debit card
Some sort of lip product
Mascara
Phone / iPod
5 books on your reading list:

Something Blue
The Help
Always Looking Up: The Adventures of an Incurable Optimist
Dear John
The Lovely Bones
The last 5 pictures on your phone camera:
My phone was having memory issues, so I actually deleted pretty much all of my photos yesterday... So, I'll show you some that were on my camera from my trip to Texas last weekend!
My friend David and me at the Alamo... I totally wish this guy didn't live way out on the west coast because he's one of my besties!
Funny story... We were walking around before dinner and of the restaurant hosts complimented my friend Arvin on his scarf. I have to admit I was a little offended that my scarf wasn't complimented! I'm pretty sure the guy was hitting on my friend though!
We wandered around San Antonio at night. This is when things were happy and fun and before we thought we were going to die or get mugged by a mob of homeless people. It was an adventure!
We visited the Alamo, but didn't do the whole tour thing. It was pretty cool to see since I hadn't been there before!
A monument outside of the Alamo... For some reason I really like how this picture turned out!