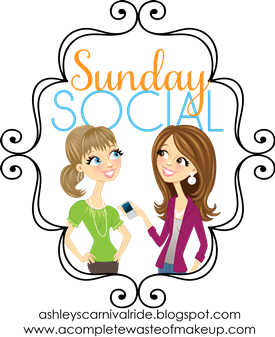 What is your favorite thing to do on a rainy day? Rainy days are the best for opening up the blinds, watching the rain, and watching something good on TV. I also sometimes like reading and just listening to the rain. Oh, and wearing yoga pants and a hoodie is totally required on these kinds of days.
What is your favorite thing to do on a summer weekend? I think going to an outdoor concert or the drive-in on a summer evening can be super fun. We have a local festival each summer and there are usually quite a few concerts during that week. We seem to get a lot of country acts (not really my thing) and some 80's bands (totally up my alley) and both have been really fun. (Aside from the nasty nasty smokers that sat in front of us last year when we saw Rick Springfield... I ended up sick for 2 weeks and ended up with a raging ear infection due to the smoke. So freakin' gross! At least the concert itself was awesome!)
What is your favorite spring accessory? This is a hard one. I've still been loving bright, fun scarves lately!
What is your favorite way to spend a winter day? I had a 4 day weekend back in February and I had an 80's movie marathon. It was delightful! I sat on my couch with my K-State blanket, burned delightful smelling candles, drank cappuccino, and wore sweats all weekend.
What is your favorite season and why? Although I love spring (allergies aside), fall is my favorite. I love fall clothes, pumpkin everything, and COLLEGE FOOTBALL!

EMAW

What is the best birthday you ever had? My 16th birthday was, by far, the best ever. My two girlfriends and I decided we'd plan one another's 16th birthdays. Well, a week or so before mine they confessed to me that they'd forgotten to plan anything, but as a consolation we could go out for a movie or something. I tried to act like it didn't bother me, but I was CRUSHED. I mean, how can 2 of your best friends forget your birthday? So, come Saturday my mom and I went out for a sushi dinner. A couple of my friends came to the restaurant saying they went to my house and my step dad told them I was there (before the days when everyone had a cell phone). They decided to "kidnap" me and take me out for a movie since they felt bad that the party thing fell through. We got out to the car and I found 2 giggling blankets in the backseat hiding 2 more of my friends. They handed me a newspaper and told me to pick a movie, but we'd first have to swing by one of their homes to get some more cash. When we got to her house, it was filled with TONS of friends all there to surprise me! Oh my gosh, they got me so good! My mom had been in on the whole thing all along (putting up with my whining about how my friends sucked for forgetting and helping me make plans for a party the following weekend) and had even delivered a cake and things to my friend's house earlier that day! I also got the best gift ever a few months later when I got my driver's license... A brand new car! The car wasn't really a surprise and it was just a basic little Saturn, but I drove that car up until 2 years ago when I finally decided to upgrade.
2 of my friends with me at my 16th birthday party! I'm still friends with these girls!
Happy Sunday!