Sometimes not spending money is really easy...
Sometimes it's very hard.
Gap seems to make this hard for me.
Image via Gap
I went to Gap one evening in search of a dress for Easter and a wedding that was the next day and fell short on the dress hunt. I fell in love this this cardi, though, and found it to be the perfect solution to spicing up one of LBDs.
Loving my new cardi for spring!
Gap V-Neck - $12
Image via Gap
Have you ever gone back to buy something after seeing it on someone else? The girl on the worship team at church had on this tee and, yes, I went to Gap right after church to get the tee. I really liked that this is a darker almost more purple-y neon pink.
Gap Shrunken Boyfriend Button Down - $34
Image via Gap
I had a love / hate affair with Gap's Friends & Family Sale this month. I spent an hour in the store and came up with nothing. (I'd bought the tee and cardi the weekend before.) I loved this pattern and the fit of these shirts, but they didn't have this particular one in store, so I ended up getting it online.
Gap Roll-Sleeve Pocket Shirt Dress - $36
Gap 1969 Denim Vest - $36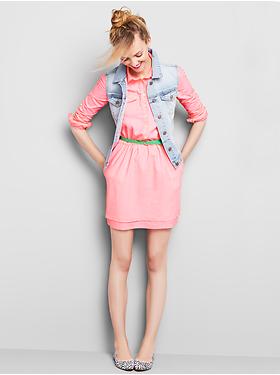 Image via Gap
I gave Gap's F & F sale a second try after my first trip had been a fail. I loved this outfit online, but figured the dress wouldn't work on my body. I mean a button-down, hot pink, and a dress with pockets? I was pleasantly surprised with the result! It's school appropriate, cute, and comfortable! I'm excited to style it in different ways!
I then became obsessed with this dress and denim vest combo. I think it helps to tone down the brightness of the dress. I rocked the denim vest look at lot back in the mid-90's, which was a little hard to get over, but I'm happy to have this as an alternative to my well-loved denim jacket.
Jeweliq Necklace - $25
I had to Instagram this one immediately!
I think
Jeweliq
may be my few favorite source for cute jewelry! I freakin' love this necklace! The shipping was insanely fast and they even included a hand written thank you note! How's that for great customer service!?!
Fossil Stella Mini Tortoise Watch - $40
I've wanted one of these tortoise watches for almost 2 years now. I'd tried the larger version on a couple times, but it never fit right. When I saw this at Ross, I decided I couldn't pass up at least trying it on... And it fit perfectly! This is a classic watch that will go with everything and I'm so happy that I didn't end up paying the $85-$115 that I was originally willing to pay for it!
Total = $206
Minus $56 (sold clothing to a resale shop)
Final Total = $150
BOOM! On budget to the dollar!
I knew buying the watch would put me over $150, but I was okay with that since I'd wanted it for so long. I took in some clothes to sell (
you can read about what I took here
), and was hoping for about $30. I was super happy to be offered $56.06! Yay!
How I Came Up With My Budget:
One of my shopping goals this year was to come up with a more firm budget. I've read several things on blogs and in magazines on how to set a clothing budget. Most suggest devoting somewhere between 5% and 10% of your take home income to this area. When I looked at my income, bills, and other stuff I decided to stick closer to the 5% mark since that seems to be a reasonable amount. I've pretty much settled on a budget of $150 a month for clothing, makeup, nail polish, and accessories. I'd previously allotted about $200 a month to "fun money" which included all of those things, plus entertainment and eating out, but now that I don't really have friends around to go out with I don't need quite the same kind of budgeting. I'm comfortable spending up to $200, but $150 or under is pretty much going to be my goal. We all have our areas where we like to spend, and this is mine. I've also decided that my extra work income is not going to count toward this budget as I'm trying to devote that money to savings and such. (I let myself subtract that for a few months, but now that it has turned into a long-term thing, I have decided to use that money more responsibly.) I will allow myself to subtract other extra income that I get from selling things or Ebates refunds from my clothing and accessory spending. Does that make sense?
April Spending Plan:
Attempt to stay away from Gap. Ha ha ha! This one might be hard, but that store has just been killing my budget lately. It's way too convenient for me to just swing in there whenever and everything they come out with screams my name! I've got a pretty good spring wardrobe at the moment, so I'm going to see if I can stay out of there for a month.
Update my sandal collection. I have a lot of sandals that need to be retired. Target has some really cute and affordable options that may serve as good replacements for some of my old faves.
Lift the makeup shopping ban! April 10th will be the end of my 100 days without buying makeup. I actually want to try to last until Sephora's spring VIB sale. I'm going to let myself splurge a little at that time (and use a Wal*Mart giftcard to get a few drugstore brand items) and then I may ban myself for another period of time.
Don't forget to check out Franziska and the other Budgeting bloggers over at Franish!